Workshops
Here are two notes for members attending our future workshops:
Casting Workshop Weekends At Northern Districts and
The Basic Techniques Of Silver Jewellery Making For Beginners. 
Casting Workshop Weekends at Northern Districts
All waxes are available from the club shop. Some silver is also available, including while it lasts, thanks to donations, a good quantity of 2nd hand silver, much of it new, which we are selling at 50 cents a gram.
The current cost of the weekend is $35 per person. This includes the cost of the investment powder supplied by the club.
Our workshops are held over the two days, Saturday and Sunday. Participants need to be able to attend both days from 9am to 3pm. Saturday is devoted to preparing your model, either carved, constructed from wax or use of suitable natural items.
Towards the end of Saturday we invest our flasks and leave to set and dry overnight.
On Sunday the flasks are separated from their base and placed in the kilns where the temperature is gradually increased so the model completely burns out. Hence the name of the process "Lost Wax Casting".
On Sunday afternoon the flasks are removed from the kiln, the silver is melted and thrown into the void by means of our centrifuge. Tense minutes follow as the spent investment is removed to reveal your creation.
Items required.
Small methylated spirit lamp. The finer the wick the better, as heat is more easily controlled.
Lecron Dental Tool. This tool (pictured below) is the most necessary tool for working wax. Lecrons are now available quite cheaply in a set of dental type tools available from 'House of Jewellery'.
Wax knife or small paring knife or small old kitchen knife or scalpel.
Two small sewing needles, one medium and one very fine, set in cork "handle'.
Cheap small paint brush, and also one about 0.7cnt to 1cm wide
Approx. 10cm (4") length of wooden dowel stick, diameter of student's finger size. (Oil stick with any vegetable oil).
Small piece of nylon panty hose. (used as emery paper on wax).
Methylated spirits.
Old toothbrush and/ or nailbrush.
Little container in which to melt wax over your spirit lamp. (You can make this from a cut down beer or dog food can, attach a long wire handle).
Tripod for your saucepan. Also made from dog food tin. Needs lot of windows in side so heat from lamp can escape. (See illustration of this set-up). Your lamp needs to fit inside this "tripod".
Any old dental tools you can get hold of.
Small water bowl for melt/pour exercise.
Old wooden or nylon breadboard or piece of Perspex for working surface.
50 to 100 grams of sterling or fine silver casting granules. May be used 50/50 with scrap silver.
Notebook and pencil.
Here is a leaflet you may download and print, describing our casting workshop weekends for members, what's involved and what to bring
Casting Workshop Weekends At Northern Districts File Size is 188 KB File Type is pdf.
Enamelling Workshop 3rd & 4th September 2016
On the weekend of 3 & 4 September 2016 a group of 7 enamellers set about the task of making works of ART. (See below) People worked very hard to produce and learn new techniques to improve their skills in enamelling and design. A great time was had by all, led by our guru Barbara Try who saved many peoples' pieces with her skills. A big thank you to her from all of us. Come along; put your name down to join us for the next exciting instalment of enamelling @ NDLC.
Gem Tree Workshop – 6th August 2016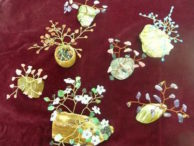 Helga was well prepared and had glazed all the gem tree base stones and wired most prior to the workshop so the 6 enthusiastic helpers had to use their artistic talent to choose the colour of the "gems" from many that Helga had available and match them with a suitable base. Gluing the "gems" on the wire loops required concentration with a little frustration but the happy group produced some charming gem trees. Thank you Helga for your guidance.
Enamelling Workshop – 30 & 31 July 2016
Seven members of the Club arrived bright and early to create some enamelling masterpieces. The class was made up of some very experienced enamellers who knew what they wished to produce to a couple of very novice beginners who needed assistance with ideas and colours. The Club room was soon a hive of industry and with the kiln nice and hot the pieces started to take shape. The work varied from Dusting, Lumps and Threads, Stencil work, using foils and some very complicated pieces of Cloisonné work. Overall the class seemed very happy with the pieces of enamelling they produced.
Casting Workshop on 23rd and 24th May 2015
Here are some photos from our recent casting workshop
Carving Workshop Oct 2013
Here are some photos from a most enjoyable carving workshop Frances held in Oct 2013.
Photos from our Casting Workshop Sep 2013
News from our workshop Jewellery Making For Beginners 2013
After a slow start on the list of applicants we eventually had 10 starters, all of whom had had little or no experience. Two projects were tackled, a piercing exercise on Saturday to make a pendant; and a soldering exercise on Sunday to make a bracelet. Everyone looks very serious here but there was lots of chatting and laughing as most attractive pieces were created. Sunday found us winding and sawing links for the charm bracelet for which we made a 'watch chain' catch. Everyone should have been thoroughly pleased with themselves as without exception all the pieces made could be worn with great pride.
Jean Macleay
News from our Carving Workshop July 2012
Bone or Soft Stone – Saturday 21st and Sunday July 22nd. Eight members attended the free July Carving weekend provided by the G&L Council as part of its education program.
Nelson Robertson was again our instructor and he was joined by Kathy Selwood for one day. Kathy is a fantastic carver and instructor from the Orange Lapidary Club and was gaining some first-hand experience on how Nelson runs his bone carving courses. She had a magnificent 25cm tall pink/white marble carving of an eagle fighting a snake. She has been working on it for two years and is now up to the final polishing stage. Truly beautiful.
Our members again produced some great bone carvings and even branched out into some inlay, scrimshaw, soft stone, and intaglio pieces. It was a great course and we are grateful to the G&L Council for this type of initiative to offer Clubs the opportunity to improve and expand their skills and techniques.
Images from our Casting Weekend 2012
We enjoyed a weekend of creating beautiful pieces. Click on the images below to see larger photos of our work.
News from our Wire Wrapping Workshop 2012
There were 5 participants in our first wire wrapping class of 2012. In just a few industrious hours all of us created a wrapped or caged cabochon ready to attach to a chain or brooch mount.
We used stirling silver square wire as the body wires which support the stone and a half round stirling silver wire as the wrapping wire.
The wrapping wires support and bind the square body wires.
A previously prepared pair of flat nosed pliers was used to form the wrapping wire around the square wires to hold them in place.
Specially angled bends in the square wires formed part of the cage and all the wires were then tied together at the top with more half round wrapping wire to then form a bale at the top of our stone.
Elaborate wire designs were then a choice to finish and embellish the bale.
Our thanks go to our instructor, Prof Lyn Bridson and also to Barbara and Tony.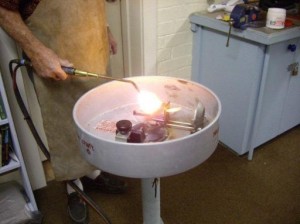 News from our Wax Casting Workshop 2011
Feedback from the Casting Weekend held 2nd and 3rd April and cleanup day 9th April 2011.
Ten participants undertook the workshop. Three experienced members shared their knowledge to allow the others to learn or brush up the skills necessary to create our silver treasures. Some of us wished to make silver jewellery such as a ring or brooch or pieces for a bracelet or to cast silver pieces from our garden or from nature.
After deciding on what we wished to cast, the basic process began with making wax models or adapting the organic pieces, we attached them to a tree (or carrier) which was also made of wax. Wax is easy to work with and inexpensive and the organic pieces provided our examples from nature. Some of these organic items required wax reinforcing to strengthen them.
We had some unique items such as leaves, gum nuts, insects, flowers and other organic items. We used different forms of casting wax, for example, sheet waxes for thin flat pieces, sprue wax for thin
sections and sticky wax.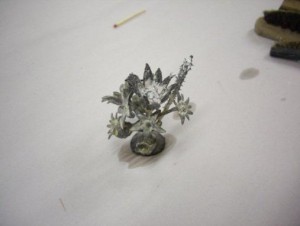 The wax tree, once completed (with organic pieces and created wax pieces attached) is fitted to the base of a metal cylindrical flask using more wax (button). The flask containing the wax model was then filled with investment. The investment is a powdered substance mixed with water that is similar in consistency to liquid plaster. Our wax and organic model, encased in the investment, was then heated in a kiln for several hours. The high temperature of baking in the kiln causes the wax to be lost by melting and vaporisation.
A perfect cast of our design is thus preserved in the hardened investment and hence the name,
lost wax casting.
After the hot flask was removed from the kiln, it was placed in a centrifuge. In the centrifuge, silver grains were heated in the centrifuge crucible until molten then forced into our moulds as the centrifuge spun. Although we used silver, gold or platinum or other metals could be used. After the centrifuge stopped, the silver cast is allowed sufficient time to cool and harden.
The tree is then exposed by plunging the flask with investment containing the silver into water to reveal an exact replica of the wax or organic originals still on their tree. The button and sprue tree are
cut away and filed off the pieces.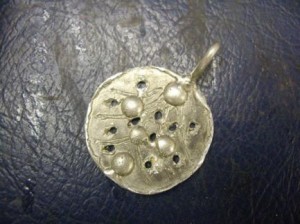 The metal is washed and/or pickled, cleaned and dried.
For some examples of what we produced, the centrifuge, flasks and one of the silver trees, please see the photos.
Thanks to our three instructors/facilitators Barbara, Sharon and Richard for their time encouragement and patience.
Thanks also to Bert for his "deflagatory" skills.
Article by Rod Powell

Wax Carving
Mark Young ran a series of wax carving lessons for us on Saturdays over 3 consecutive weeks.
Those who attended the last series enjoyed the classes, and thanks to Mark's expert tuition came up with beautiful results. Lessons were learnt about casting larger items, a technique we had not tried before,and we will know how to go about this much better next time.
If another series is held next year a sheet will been placed on the notice board for those who would be interested in attending, to add their name.
Beading
One of our talented members ran a wonderfull beading workshop. This one day workshop was limited to 10 people and cost $10.00.
For future reference here are the details in case another day is held. Please bring your lunch and a hand-towel along with a selection of beads to make a necklace and 2 pair of earrings. Beads can be purchased at a number of places including Spotlight & Big W. There could be a nominal charge for other basic materials that the Club can supply.
Please contact Nivea for any additional information.
A list will be put on the notice board in the Cutting Room for those members who are interested in attending.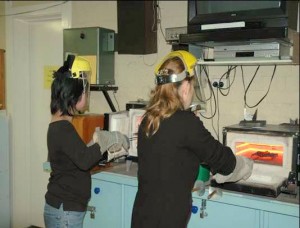 Enamelling
Enamelling workshops have been run each year.
Members attending have sometimes found that working bowls was considerably more difficult than working flat shapes. The challenges faced by all concerned were met with some original thinking and the experience of Annette Clarke from the Central Coast Lapidary Club, who we were fortunate to have with us for the day.
By the end of a long day we believe that most of the participants learned a lot and were happy with the end result
Kevin Davey reports that a successful afternoon was spent with our junior members with Barbara Try sharing her knowledge.
Some interesting and outstanding designs were produced in a short time, our juniors are very enthusiastic and keen to absorb all aspects of lapidary.

Here is a photo of some items created during the afternoon.
In an earlier enameling workshop members spent a full day experimenting with colours and shapes.
From all reports it was a great day with first timers quickly grasping the processes required while those who had been before reinforced techniques in preparation for future workshops where more complicated methods and different pieces will be attempted.
Precious Metal Clay
Members attending our precious metal clay workshop were impressed by the techniques and success they enjoyed, guided by our Instructor Margaret Lightfoot. A lovely and informative book titled "Introduction to Precious Metal Clay" by Mary Ann Devos has been purchased for the members and is now available for use within the club from the reference section of the club's library.